What the flipped model looks like
Online component
Pre-recorded lectures in smaller 'chunks' (20 min limit)
Followed up with short self-marking online quiz to test the concepts and consolidate what students have learnt.
In class component
Discussion around pre-viewed online content
Testing of concepts
Workshop and problem solving activities.
Important consideration
Fundamental change in teaching style: Educators may be used to the traditional style and format of lectures, and so moving to using class time for more student-centred active learning may require some planning around what will actually happen in the class.
Models demonstrating the use of the flipped classroom in the higher education setting

Figure 1: Experiential Flipped Classroom Model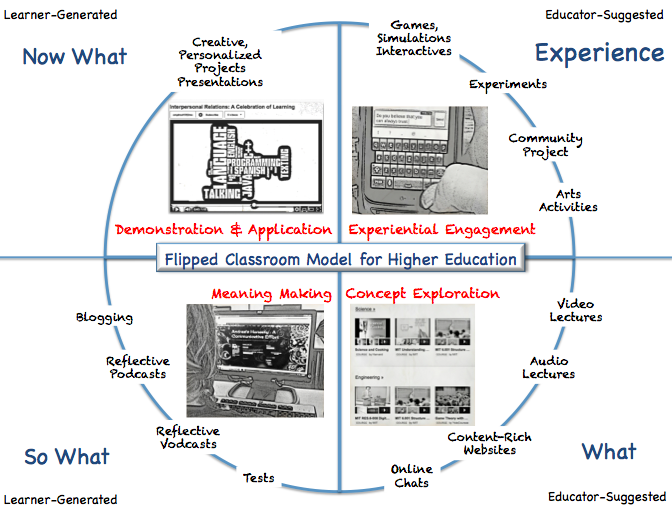 Image Source: https://usergeneratededucation.files.wordpress.com/2012/05/2012-05-14_1232.png
Figure 2: Blooms Taxonomy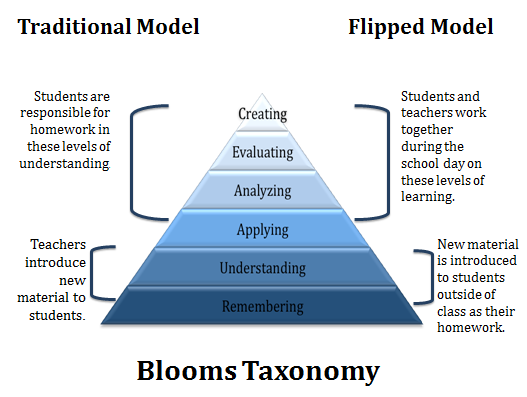 Image source: http://nextgenerationextension.org/2013/10/01/blooms-and-the-flipped-classroom/
Original source: Image: Williams, Beth (2013). How I flipped my classroom. NNNC Conference, Norfolk, NE.