Supporting students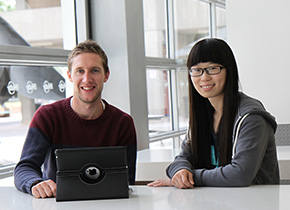 Support for students is imperative for engagement with course material and effective learning. It should never be assumed that students know how to access information, who to ask for help, where to go for advice, or how to navigate technologies.
When designing your course, consider the following types of supports to assist your students in achieving a quality learning experience. This might involve creating direct links on your Moodle shell or notifying students were to look for help. It is important to offer this information as part of your course design to give students the maximum opportunity to succeed. Not just as a service to direct them to if they are struggling.
Course support
Ensure students are aware of who the course coordinator is, and any other staff involved within the course. This is particularly important for online courses where face-to-face introductions are not available. Students need to visualise who their tutors are either through images or a short introductory video, and have clear instructions on when and how they can contact tutors for questions and support.
Academic support
Regardless of where a student is along their tertiary journey, academic supports are paramount in enhancing student success. This makes embedding academic literacy support in the first year of any program essential. Examples include:
Student referrals
If you have identified a student in your course who is struggling with literacy or specific academic skills, you can refer them directly to a Learning Skills Adviser (LSA) for individual support.
Technical support
Ensure your students are provided with 'how to' video's, demonstrations or workshops to assist with the use of any technologies or programs. Where available, also provide phone numbers or email addresses of University support staff. Examples include:
Any other programs or technologies utilised by students as part of accessing content or submitting assessment tasks. For online resources pertaining to a number of these, please visit the Study Help tab on Moodle.
Health and wellbeing support
A student's physical, mental, emotional, social and spiritual health plays an important role in creating a healthy learning environment. Various courses can impact on each of these, and examples include:
Physical health – Some courses may include exposure to physical exertion or dangers and therefore require support for injury prevention, injury management and recovery. Examples may include back care for student nurses, first aid for outdoor education students, or safety measures for handling chemicals for science students.
Mental and emotional health - Reflective journaling can be a valuable tool in exploring depth of understanding and applying current knowledge with past experiences. It can also uncover student personal tragedies or emotional past events. It is important to provide these students with details on where to access counselling supports.
Social and spiritual health – On-campus University life can mean an opportunity to meet new peers from varying backgrounds and cultures. There are opportunities to become involved in a number of societies, groups and social events. For off-campus students, replicating this in an online environment is a challenge. Ensure you link these students into student support services.
Student wellbeing services – The University offers the following student supports:
General support and services
University life isn't just about completing a diploma or a degree. Going to university also offers opportunities to make new friends, forge new networks, and become involved in a plethora of clubs, societies and organisations for almost any interest. University provides its students with additional knowledge and skills that complement their studies and development of graduate attributes.
Check out Starting at FedUni or support and services or to find out what is on offer.