Stipcevich, Jack
Email: jackstipcevich@students.federation.edu.au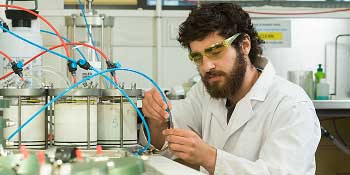 Room: 4W
Phone: 5122 8206
---
Biography
Mr Stipcevich completed his undergraduate course in Civil and Environmental Engineering in 2015, at Monash University, Gippsland Campus. After completion, he has decided to pursue research in the Geotechnical and Hydrogeological field, with a particular interest in the utilization of waste materials. His current research focuses on the beneficial reuse of coal combustion products to replace virgin material with a focus on; geotechnical properties and processes; slope stability; material performance; material modification and hydraulic behaviour.
Qualifications
Bachelor of Civil and Environmental Engineering - Monash University
Research Topic
Coal ash drainage and filter layer for the rehabilitation of open cut mines
Supervisors Dr Jianfeng Xue and Dr. Edward Kim
In collaboration with Monash University and Federation University, AGL Loy Yang is undertaking studies aimed at gaining insights into the potential for using constructed soils for rehabilitation and the appropriate formula for such soils. Field trials are being progressed to examine alternative constructed soils for their suitability for final rehabilitation of the mine. A research team is being put together to explore soil-plant-water relations, soil reinforcement, soil physics as well as environmental chemistry and soil leaching for a range of constructed soils derived from the following raw materials overburden, coal wastes, power station ash and composted water treatment wastes.
The design and construction of a capping layer is only one piece of the puzzle that needs to be solved. The objective of this research is to investigate and assess the performance of coal ash as an alternate material for the development of a drainage and filter to layer to be used as a final landform slope cover during mine rehabilitation.
The research will primarily involve lab testing and numerical modelling to investigate and assess the performance of coal ash, however, some field based trials will be undertaken. If the drainage and filter layer is considered feasible, it will open doors for future research projects and be a gateway for in-situ and field tests.