Ranjbar Pouya, Kaveh
Email: k.ranjbarpouya@federation.edu.au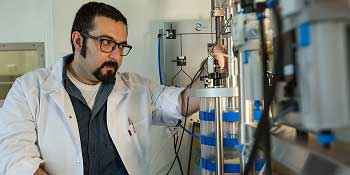 Room: 4W
Phone: +61 3 5122 8501
---
Biography
Kaveh Ranjbar Pouya is a Ph.D. student at the Geotechnical and Hydrogeological Engineering Research Group (GHERG), Federation University Australia. He started his Ph.D. in 2014 after he was awarded a Federation University Postgraduate Research Scholarship. His research focuses on the effectiveness of Cutter Soil Mixing in the stabilisation of Coode Island Silt. Kaveh received his B.Eng. and M.Sc. degrees in civil engineering and geotechnical engineering from the University of Guilan, Iran, in 2010 and 2013, respectively. Kaveh ranked the first in his M.Sc. program.
Qualification
BS Civil Engineering The University of Guilan, Iran
MS Geotechnical Engineering The University of Guilan, Iran
Research Topic
Evaluation of cutter soil mixing technique for stabilisation of Coode Island Silt
Supervisors: Dr Ali Tolooiyan & Professor Rae Mackay
Industrial Partners: BAUER GmbH., Germany & Wagstaff Piling Pty Ltd., Australia
A major part of Melbourne's central business district is underlain by a soft silty clay deposit known as Coode Island Silt (CIS). CIS has a very low shear strength and high compressibility. One solution could be to improve the stiffness and strength of such a problematic soil by the use of a ground improvement technique such as soil mixing columns /panels. The main part of the current research is to investigate the effectiveness of the Cutter Soil Mixing (CSM) technique using lime to improve the CIS. During this project the strength and stiffness of the treated CIS is evaluated using laboratory experiments. Also, the efficiency of the method will be evaluated by finite element analysis is aggregation of soil particles.