Couling, Catherine
Email: c.couling@federation.edu.au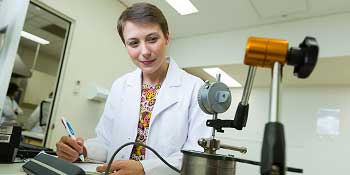 Room: 4W
Phone: +61 3 5122 8312
---
Biography
Catherine Couling is a Ph.D. student with the Geotechnical and Hydrogeological Engineering Research Group (GHERG). She started her Ph.D. in 2014 after she was the recipient of a Federation University Postgraduate Research Scholarship. Earlier that same year, Catherine received her Bachelor of Civil and Environmental Engineering from Monash University, Australia.
Qualifications
BEng Hons (Civil & Env), Monash University
GradIEAust , Engineers Australia
Research Topic
Analysis of time-dependent geotechnical factors affecting brown coal mine batter stability
Supervisors: Professor Rae Mackay & Dr Ali Tolooiyan
In 2007, a portion of the nearly complete north-eastern batter of the Yallourn brown coal mine collapsed. The focus of this current research is the case study of a selection of time-dependent geotechnical factors believed to have influenced the long-term stability of the brown coal batters. This research will investigate the relative significance of some of the causes contributing to the batter failure, particularly the long-term geomechanical behaviour of materials, influence of geologic structures and groundwater conditions. Both two- and three-dimensional finite element modelling, combined with existing data recorded at the time of failure and new data collected from geomechanical testing of materials, are being used in this investigation.