Women's Research Network (WReN)
Launched in 2012, the Women's Research Network helps boost female participation and recognition in tertiary research, by providing a supportive network within FedUni. The WReN hosts events and guest speakers throughout the year, and also shares information, articles and support via their group on Moodle and on this website.
For information on how to join, please contact e.hearnshaw@federation.edu.au or simply join our mailing list here. You can unsubscribe at any time.
Inspiring women in research
To celebrate the International Day of Women and Girls in Science, and as part of the universities Athena Swan program, the stories of inspirational women in research are currently being featured on the Research Degrees webpage.
Check out their profiles here to find out about their exciting projects!
Published 14/02/2017.
First meeting for the year
Caption this! Using humour to explore issues faced by women in research, will be the topic for the first informal meeting of the WReN for 2017. Facilitated by Priscilla Prestes and Lauren Fortington at Mt Helen, and Kate Moore in Gippsland, the meetings will be an opportunity to meet other women in research and join in on a lighthearted discussion.
When: 2.30-3.30pm on Thursday 2nd March
Where: Room T103 on the Mt Helen campus, and room 2W273 on the Churchill campus
RSVP: To Emily Hearnshaw on e.hearnshaw@federation.edu.au
Published 02/02/2017.
The results of the survey are in!
Towards the end of 2016 we sent out a survey to find out how we could better connect and engage with our members. Over half of the respondents said that they would prefer to be kept up to date via a group email. So in response, we now have an email mailing list, that you can subscribe to by clicking here, or on the link in the introduction above. WReN activities will still be advertised in FedNews, and posted on this website, so there will be no more excuses for missing an event! In addition, the WReN moodle group will be retained as a valuable repository of resources.
You also told us in the survey that your main reasons for attending WReN were networking, gaining and giving support to other women in research, and interesting discussion topics. We have taken on board all the wonderful suggestions for topics to be discussed in the future, an are excited to be able to incorporate many of them into the program of events for this year.
Published 19/01/2017
Introducing the new WReN organising group
The WReN is pleased to introduce the new organising group who will be planning events for this this year.
Professor Caroline Finch, Executive Dean of Graduate Studies, Robert HT Smith Personal Chair, and Director of ACRISP (Australian Collaboration for Research into Injury in Sport and its Prevention) from the SMB and Mt Helen campuses, Ballarat.
Dr Kate White, Adjunct Associate Professor in the Faculty of Education and Arts from the Mt Helen Campus, Ballarat.
Associate Professor Kate Moore from the School of Health Science and Psychology at the Gippsland campus in Churchill.
Priscilla Prestes, Robert HT Smith Research Fellow, Faculty of Science and Technology, Mt Helen Campus, Ballarat.
If you would like more information on WReN and how to join, please contact Emily Hearnshaw on e.hearnshaw@federation.edu.au.
Stay tuned for updates!
Published 16/01/2017
'Be ambitious' a key message from the WReN christmas event
On Monday 12 December the women of WReN gathered together for the annual end-of-year event. It was a great opportunity to network with other women in research from all of FedUni's campuses.
Professor Geraldine Mackenzie spoke about the current state of research in Australia, as well as the specific challenges faced by women. She encouraged everyone to seek out a mentor, and inspired the room by urging everyone to back themselves and dream big. She was a wonderfully knowledgeable and engaging guest speaker, and her presentation was thoroughly enjoyed by all.
The WReN is now looking forward to a fresh and exciting 2017!
Published 13/12/2016
Dr Lauren Fortington recipient of the 2016 VC Early Career Researcher Award
WReN congratulates Dr Lauren Fortington as recipient of the 2016 Vice-Chancellor's Early Career Researcher Achievement Award. Lauren received this award for her commitment to, and delivery of, research excellence well above the expectations of an early career researcher. Dr Fortington has demonstrated significant research productivity by publishing numerous publications, attracting significant research income, supporting several PhD students and being extensively involved in external committees.
Dr Fortington is pictured proudly holding her award, surrounded by the Research Services team.
Published 23/11/2016
WReN welcomes Professor Geraldine Mackenzie as invited speaker
The WReN are excited to welcome Professor Geraldine Mackenzie, DVC (Research) Southern Cross University, to their meeting and end-of-year dinner in Melbourne, Monday 12 December. This will be held at the Holiday Inn, Flinders Lane, 4.00pm start with dinner at 6.00pm. To RSVP, or for more information, please contact Emily Hearnshaw on E.hearnshaw@federation.edu.au.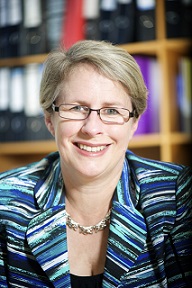 Prof Geraldine Mackenzie was appointed Deputy Vice Chancellor (Research) at Southern Cross University in August 2014, and was previously Pro Vice Chancellor (Research) at Bond University, and Executive Dean, Faculty of Law. Prior to this she was the Foundation Head of the Law School at the University of Southern Queensland, and before that at QUT for many years.
Prof Mackenzie is Deputy Chair of the Universities Australia DVC/PVC Research group, and Co-Chair, Universities Australia Executive Women. In 2015 she was Chair of the Regional Universities Network Research group, and until 2014, Chair, Humanities and Creative Arts panel of the Australian Research Council College of Experts. She is a Fellow of the Australian Academy of Law, the Queensland Academy of Arts and Sciences, and the Australian Institute of Management, as well as a member of the Australian Institute of Company Directors.
Professor Mackenzie is the author or co/author of five books on criminal law and sentencing and has written numerous journal articles and conference papers in her specialist areas. Her research encompasses both the practical aspects of criminal law and the courts, and also theoretical and policy aspects, particularly in relation to sentencing. Her most recent work examines public confidence in the courts.
Published 08/11/2016.
WReN and Mansplaining
At its November meeting, members of WReN enjoyed an afternoon discussing mansplaining and strategies to minimise it. Hosted by Professor Erica Smith, the session was both serious and light hearted.
Published 09/11/2016.
WReN and the Athena Swan Project
Recently the WReN welcomed special guests from Science in Australia Gender Equity (SAGE), who spoke to them about the Athena SWAN program, which aims to improve gender equity in science, technology, engineering, mathematics and medicine.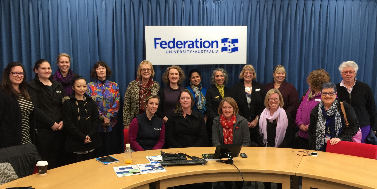 For more information on Federation University Australia's involvement in the program, see this recent article in FedNews.
Published 08/11/2016