Women's Research Network (WReN)
Launched in 2012, the Women's Research Network helps boost female participation and recognition in tertiary research, by providing a supportive network within FedUni. The WReN hosts events and guest speakers throughout the year, and also shares information, articles and support via their group on Moodle and on this website.
For information on how to join, please contact e.hearnshaw@federation.edu.au
Dr Lauren recipient of the 2016 VC Early Career Researcher Award
WReN congratulates Dr Lauren Fortington as recipient of the 2016 Vice-Chancellor's Early Career Researcher Achievement Award. Lauren received this award for her commitment to, and delivery of, research excellence well above the expectations of an Early Career Researcher. Lauren has demonstrated significant research productivity by publishing numerous publications, attracting significant research income, supporting several PhD students and being extensively involved in external committees.
Dr Lauren is pictured proudly holding her award, surrounded by the Research Services team.
Published 23/11/2016
WReN welcomes Professor Geraldine Mackenzie as invited speaker
The WReN are excited to welcome Professor Geraldine Mackenzie, DVC (Research) Southern Cross University, to their meeting and end-of-year dinner in Melbourne, Monday 12 December. This will be held at the Holiday Inn, Flinders Lane, 4.00pm start with dinner at 6.00pm. To RSVP, or for more information, please contact Emily Hearnshaw on E.hearnshaw@federation.edu.au.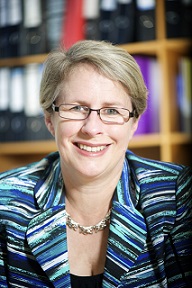 Prof Geraldine Mackenzie was appointed Deputy Vice Chancellor (Research) at Southern Cross University in August 2014, and was previously Pro Vice Chancellor (Research) at Bond University, and Executive Dean, Faculty of Law. Prior to this she was the Foundation Head of the Law School at the University of Southern Queensland, and before that at QUT for many years.
Prof Mackenzie is Deputy Chair of the Universities Australia DVC/PVC Research group, and Co-Chair, Universities Australia Executive Women. In 2015 she was Chair of the Regional Universities Network Research group, and until 2014, Chair, Humanities and Creative Arts panel of the Australian Research Council College of Experts. She is a Fellow of the Australian Academy of Law, the Queensland Academy of Arts and Sciences, and the Australian Institute of Management, as well as a member of the Australian Institute of Company Directors.
Professor Mackenzie is the author or co/author of five books on criminal law and sentencing and has written numerous journal articles and conference papers in her specialist areas. Her research encompasses both the practical aspects of criminal law and the courts, and also theoretical and policy aspects, particularly in relation to sentencing. Her most recent work examines public confidence in the courts.
Published 08/11/2016.
WReN and Mansplaining
At its November meeting, members of WReN enjoyed an afternoon discussing mansplaining and strategies to minimise it. Hosted by Professor Erica Smith, the session was both serious and light hearted.
Published 09/11/2016.
WReN and the Athena Swan Project
Recently the WReN welcomed special guests from Science in Australia Gender Equity (SAGE), who spoke to them about the Athena SWAN program, which aims to improve gender equity in science, technology, engineering, mathematics and medicine.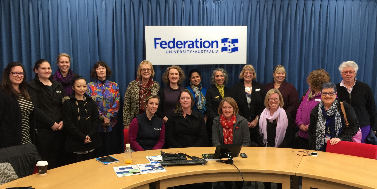 For more information on Federation University Australia's involvement in the program, see this recent article in FedNews.
Published 08/11/2016