News
FedUni continues to excel in learning and teaching rankings
Posted: Thursday 13 April 2017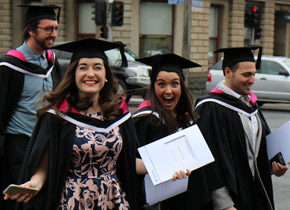 Federation University Australia has maintained its reputation as one of the nation's leading universities with a series of excellent results in the latest Quality Indicators for Learning and Teaching rankings.
According to QILT, FedUni ranks number one in Victoria for Student Support, Teaching Scale, Employment, and Median Starting Salary.
"We are delighted that so many of our undergraduate students have honoured us with these excellent rankings," Professor Andy Smith, Acting Vice-Chancellor, said.
"The University performed above the national average in nine out of 13 areas. In the Student Experience surveys we also were above the national average in all six areas."
"We thank our students for their support," Professor Smith said.
"With campuses in Ballarat, Berwick, Gippsland, the Wimmera and online, the university is well placed to serve students throughout Victoria."
For information about studying at FedUni, please call 1800 333 864 or email info@federation.edu.au