News
Design of new Ballarat Tech School unveiled at FedUni
Posted: Tuesday 11 April 2017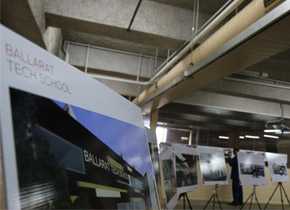 Federation University Australia has unveiled the design of the new Ballarat Tech School at its SMB Campus.
The new Tech School will be created through the redevelopment of the University's Building K on Albert Street, Ballarat.
Deputy Premier and Minister for Education, James Merlino, announced the new design, which has been completed by Patrick Architects.
"The University looks forward to the creation of the new Ballarat Tech School and we welcome the State Government funding for the project," Professor Andy Smith, Acting Vice-Chancellor, said.
"The new high-tech centre of excellence will use the latest technology to deliver stimulating education and training opportunities to secondary students from government and non-government schools.
"The new Tech School will greatly assist local Ballarat and regional secondary school students," Professor Smith said.
"It will work with local industry to form strong partnerships and strengthen pathways into post-secondary education and training."
Ballarat Tech School will be a partnership between the University; government, Catholic and independent schools; Ballarat City Council; Highlands LLEN and industry partners.
The School will focus career development in the emerging industries of information technology, new energy technologies, health / science, food and fibre, and advanced manufacturing.
The work on Building K to accommodate the new Tech School includes a significant upgrade of the interior to provide a stimulating environment for education and training.
The Tech School is due to open in early 2018.
The Ballarat Tech School will be one of ten such schools to be established throughout Victoria.