News
University builds nursing links with Saudi Arabia
Posted: Friday 24 March 2017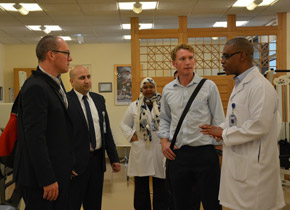 Federation University Australia and a major Saudi Arabian rehabilitation centre will collaborate more in nursing best practice following the visit by a senior FedUni delegation this week.
The University's Dr Blake Peck and Professor Fergal Grace have greatly enjoyed working with Sultan Bin Abdulaziz Humanitarian city rehabilitation hospital and medical centre, in Riyadh, Saudi Arabia.
Sultan Bin Abdulaziz Humanitarian City is a not-for-profit centre of excellence for rehabilitation that is supported by the Sultan Bin Abdulaziz Al Saud Foundation.
"This visit to Riyadh, Saudi Arabia, involves three days of evidence-based implementation of best practice with the specialist nurse educators and leadership training to the wider nursing and allied health leaders," Professor Grace said.
"The local specialist nurse team is demonstrating the implementation of best practice procedures observed during its visit to FedUni, Ballarat Health Services and LaTrobe Hospital last October.
"The outcomes of this cultural visit and clinical education program are already influencing best practice policies of specialist nurse training within Sultan Bin Abdulaziz Humanitarian City."
In collaboration with project colleagues at Sultan Bin Abdulaziz Humanitarian City, the University's School of Nursing is in the final stage of completing a project entitled 'Exchanging Best Practice and Leadership Building in Nursing/Allied Health'.
This project is supported by the Commonwealth through the Council for Australian-Arab Relations (CAAR), which is part of the Australian Department of Foreign Affairs and Trade (DFAT).
"The partnership sets out to achieve a sustainable program of education that informs best practice and stimulates cross cultural enhancement of education, leadership building and patient care in Saudi Arabia and Australia," Dr Peck said.