Dr Ernesto Valenzuela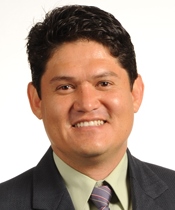 Qualifications
Ph.D. (2006), Purdue University, West Lafayette, U.S.
M.Sc. (2000), Southern Illinois University, Carbondale, U.S.
Acuicultor (1997), Escuela Superior Politecnica del Litoral, Guayaquil, Ecuador
Biography
Dr. Ernesto Valenzuela has previously held the role of Associate Dean of Research in the Federation Business School, Federation University Australia. Additionally, he was Senior Lecturer and Head of Discipline in Economics at Monash University-Gippsland, Director of the Centre for International Economic Studies and Senior Lecturer in Economics at the University of Adelaide, and full-time consultant at The World Bank's Development Research Group in Washington DC. He has been involved as a lecturer and moderator for The World Bank Institute courses on Trade Policy, Export Development and Trade Growth and Poverty; and instructor of GTAP courses.
Research
His research interests are in the areas of international trade and development, natural resource economics, general equilibrium modelling, and regional economics. His most recent project involved developing social and economic composite indexes to assess changes in regional resilience over time, and to identify the enablers of economic productivity and social and community development (funding from Regional Development Victoria); and assessing climate change impacts on labour markets (collaboration with CSIRO).
https://scholar.google.com/citations?user=gktR7mkAAAAJ&hl=en
Supervision
Current supervision of 3 PhD students.
Honours Degree Economics, Brady Willhelme, 2013. High Distinction First Class
Ph.D. Co-supervision, Johanna Croser. 2010. The Australian Agricultural and Resource Economics Society 2011 Prize for the best PhD thesis
Masters of Economics' coursework projects Rafiq Idris 2009
Masters of Economics' coursework projects Ferry Prasetyia 2008