Current exhibition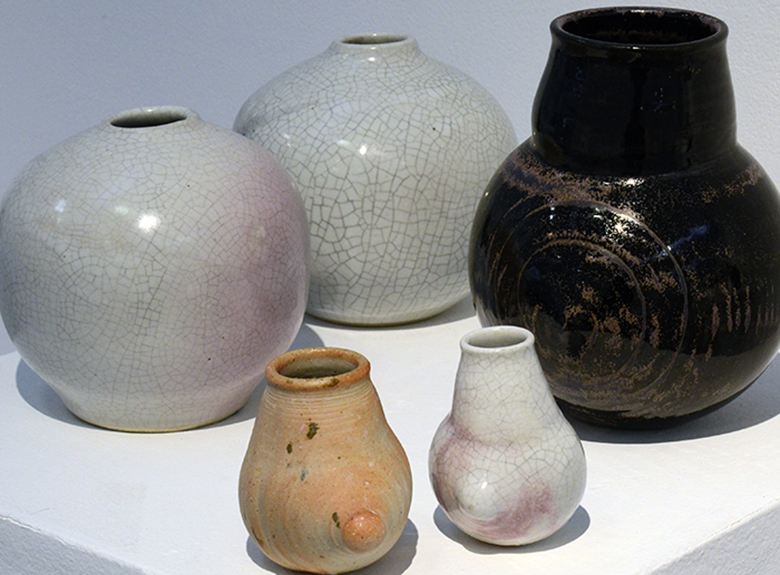 UNEARTHED: THE JAN FEDER COLLECTION
Sat 30 Sep – Sun 29 Oct 2017
Please join us for the exhibition opening, with guest speaker Hedley Potts, Ceramic Artist, on Sat 30 Sep @ 2, for 2.30pm.
Key ceramic works, never seen before in Ballarat, by significant ceramic artists are on tour from Federation University Australia's Gippsland Centre for Art and Design (GCAD), from the Jan Feder Collection.
This important Collection, amassed by funds raised by Jan Feder's student peers at GCAD in the mid 1980s in Jan Feder's honour, includes outstanding work by former teachers and visiting lecturers, now leading ceramic artists around the globe including; Jan Feder, Kingsley Marks, Victor Greenaway, Christopher Headley, Shikuho Ino, Hedley Potts, Sandra Johnstone, Peter Pilven, Robin Welch, Victoria Howlett, Alan Peascod, Kurt Webb, Reg Preston and Sylvia Richardson to name a few.
Image: Jan Feder, 5 vessels (installation view) reduction fired stoneware with feldspathic crackle and Tenmoku glazes Collection: Federation University Australia