Current exhibition
DEANNE GILSON: IN BETWEEN THE OBJECT AND THE GAZE
Fri 23 Jun - Sat 15 Jul 2017
Smoking ceremony by Blair Gilson, Welcome to Country by Auntie Marlene Gilson and opening on Thu 6 Jul 2017 with remarks by Professor Estelle Barrett, Research and HDR Coordinator, Institute of Koorie Education, Deakin University.
Deanne Gilson's work focuses on reclaiming traditional knowledge, the colonial gaze and challenging Western portrayals of Aboriginal people. Her art practice and current research is concerned with the objectification of Aboriginal women and the impact of the male colonial gaze, and what was known of traditional 'women's business'. Examining how contemporary art can heal, disrupt and challenge the male colonial gaze through a reflective process, within Deanne's research and art, her aim is to highlight and bring back women's business through art practice as research and link this to the revived practice of ceremony.
Deanne Gilson is a proud Wadawurrung woman who currently lives and works in Ballarat, Victoria. Deanne completed a Bachelor of Arts (Visual Art) with Honours at the Arts Academy, Federation University Australia, in 2010 and is currently a PhD candidate at the Institute of Koorie Education, Deakin University, Geelong, Victoria.
NB. Open NAIDOC week, Sun 2 Jul - Sun 9 Jul 2017, 12 - 5pm
Image: Deanne Gilson, Decolonising White, 2016, Black Hill white ochre, charcoal from my fire, gold leaf, acrylic paint on linen, 90 x 100 cm. Private Collection.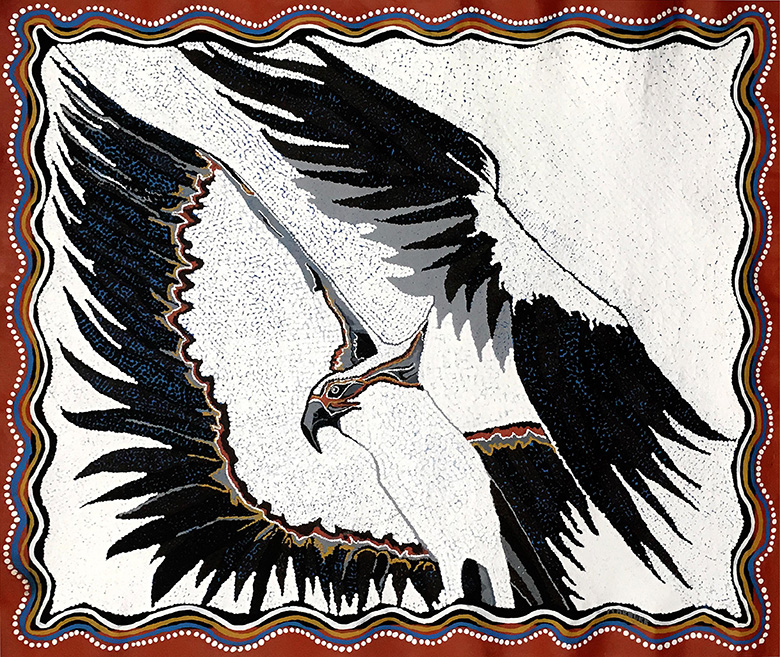 NAIDOC 2017: INSIDE-OUT DREAMING
Fri 23 Jun - Sat 15 Jul 2017
Opening celebration and Welcome to Country by Uncle Bryon Powell, dancing by Baarlijaan Dance Group and opening speeches by Bryce Ives, Director, Arts Academy, Ballarat and Gippsland Centre for Art & Design, and Professor Helen Bartlett, Vice Chancellor, Federation University Australia.
Through a unique collaboration between Federation College's VET Visual Arts program with Ararat (Hopkins Correctional Centre) and Langi Kal Kal, Indigenous artists present their recent work in an exhibition that explores, expresses and celebrates their Indigenous cultural heritage and the significance of NAIDOC for the community.
This year the National NAIDOC theme is Our Languages Matter. The theme aims to emphasise and celebrate the unique and essential role that Indigenous languages play in cultural identity, linking people to their land and water and in the transmission of Aboriginal and Torres Strait Islander history, spirituality and rites, through story and song.
NB. Open NAIDOC week, Sun 2 Jul - Sun 9 Jul 2017, 12 - 5pm
Image: Gary Eagle Dreaming, 2017, acrylic on canvas, 66 x 80cm. Courtesy the artist