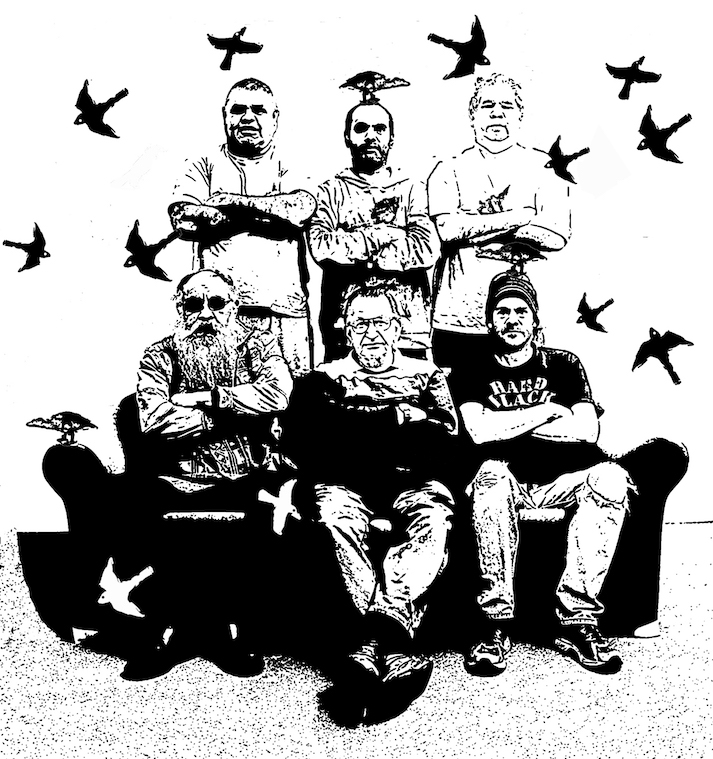 Pitcha Makin Fellas : blackface (realface): Indigenous faces of Ballarat
29 Jun - 23 Jul
To be opened by Tom Mosby, CEO, Koorie Heritage Trust, Melbourne, on Tue 5 Jul @ 2.30, for 3pm.
Myles Walsh, Ted Laxton, Adrian Rigney, Joe Lee, Thomas Marks and Peter-Shane Rotumah, known as the Pitcha Makin Fellas, have worked on diverse projects from local school houses to the Koorie Heritage Trust and Bunjilaka at the Melbourne Museum.
The Pitcha Makin Fellas make art that tells stories often through bright patterns inspired by the environment, Aboriginal history and historical south-eastern Australian mark making, whilst ensuring the strength and pride of their culture is maintained. Humour is an important part of the work they do and how it is made.
Meeting for the first time in 2013, the group started collaborating on paintings, gradually building relationships with each other and developing a unique style of working.
Recently presenting a major work for 'White Night', collaborating with the Portuguese creative studio OCUBO, the artists created a contemporary reinterpretation of traditional Indigenous storytelling that was projected onto the face of the Exhibition Buildings, Melbourne.
With many impressive achievements, including solo exhibitions, their work has been collected by private and public institutions including the National Gallery of Victoria.
Keen to celebrate the history, culture and achievements of Indigenous Australians, for the Pitcha Makin Fellas, the new exhibition at FedUni's Post Office Gallery, is an opportunity to recognise people from their community and the contributions they make to our country and our society.
*NB: blackface (realface): Indigenous faces of Ballarat will be open on Sun 3 July for NAIDOC Week 2016.
Image: Pitcha Makin Fellas, 2016